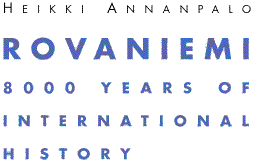 The following pages are in pdf-format,
so you need Adobe Reader to view them.
If you don't have it, you can download it here.

Some of the pictures had to be taken off because of copyright problems.


(100 kt)
THE LANDSCAPE WHEN MAN ARRIVED


(426 kt)
THE TIMES BEFORE WRITTEN DOCUMENTS: ROVANIEMI'S FIRST 7000 YEARS
Human settlement from the east
Moving between coast and hinterland
The art of ceramics, learned from the south-east
Bronze working skills from east and west
The iron foundries of Lake Sierijärvi


(105 kt)
WHERE DO THE PEOPLE OF ROVANIEMI COME FROM?
Names tell us about the people who used them
The Saami of Rovaniemi: from hunters to tax-paying farmers
Fishing and hunting more important than farming


(418 kt)
FIRST STEPS TOWARDS ADMINISTRATION
Church administration
Going to court


(268 kt)
SETTLEMENTS BY THE RIVER
The hardships of war and famine
Wars take their toll
Agriculture gains in importance
Freeholders in the majority


(814 kt)
CONTINUOUS GROWTH GENERATED BY AGRICULTURE
Reindeer herding in a key position
Agriculture forms the basis for continued growth
The Great Partition
Growth of the landless population
Rovaniemi becomes an independent parish in 1785


(110 kt)
HARD WORK IN THE FORESTS
Forestry leaps into action: the "Great Contract"
Rovaniemi emerges as a major centre for forestry
Log floating on the River Kemijoki
The first trade union


(176 kt)
THE TRADING CENTRE FOR THE NORTH
Shops and markets
Looking after the money
Improved communications
The first local newspaper
Early entrepreneurs
"Lights shining miles off…"


(549 kt)
THE BEGINNINGS OF LOCAL ADMINISTRATION
Education points the way
Building up the villages
A poor rural district and
a wealthy township


(511 kt)
THE DAWN OF A NEW ERA
A change in the party spectrum
Workers as Jaegers
The 75 days of the workers' revolution
The communists and the Lapua spirit


(88,5 kt)
THE ADMINISTRATIVE CAPITAL OF LAPLAND


(255 kt)
ONLY THE PRINTS OF ALPINE BOOTS REMAINED
The Winter War: bombing raids and deaths at the front
Lively times between the wars
A German Army base during the Continuation War
Evacuation and destruction
Reconstruction


(78,9 kt)
A CENTRE FOR EXPERT SERVICES
Settlement and building up to the mid-1960's
1965–1975 – the "Great Transformation"
Development of services and suburbs in 1975–1985
Facing an uncertain future


(151 kt)
INTERNATIONAL ROVANIEMI
Connections in all directions, even in prehistoric times
Relations between states
The influx of foreigners during the war
Work for peace after the war
Twin towns around the world
A venue for international conferences


(200 kt)
Condensed informations
Ancient Lake Kolpene builds up behind Valajaskoski
The salmon dam at Muurola
Drawing the boundaries
Debts common
The sawmills of Rovaniemi
The life of the lumberjack
Rovaniemi gains its charter
Newcomers brought by the railway
Tourism in Rovaniemi

Credits